In an effort to better align with the global community, we have adapted our sustainability approach to those of the United Nations SDGs.
Carmeuse places the utmost of importance on the well-being of our employees, their families and those in our communities.  As part of our business strategy, we are committed to achieving zero-injuries in our workplace, implementing programs such as our Employee Assistance Program (EAP), to promote better wellness of our employees and their families, and supporting community efforts through donations and volunteer time which promote healthier living.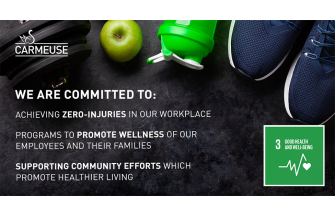 The Safety Champions in CZHUSK area
In CZHUSK area we launched the Safety Champions campaign last year, which creates a challenge among colleagues for new safety ideas. 

The aim is to support a positive safety culture by setting a real example, promoting safe behavior, and spreading awareness of safety in everyday working life. Recent winners of the contest are the Včeláre quarry, where workers designed and then implemented a method of disinfecting common areas using a simple and accessible device, and the Beremend lime plant, where a safe workspace was created in the crane area of the big bag loading area. 
The champions provide us with thoughtful suggestions for improving safety at our workplaces. They encourage our employees to independently improve the safety of their practices and improve communication between management and employees about safe practices. In addition, they promote positive change and higher safety standards. 
Their benefit is the respect of others, and our benefit is a motivated and proactive workforce with a much finer level of safety awareness. The project supports SDGs 3 and 8.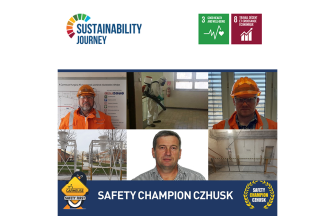 The Paperless project in Fieni 
Organization:
We are more organized than ever before
All issues receive notification which allow planners to better track problematic equipment
Efficiency :
Busy early mornings have become a thing of the past :
We are able to assess the health of the plant thorough notifications, generating orders and assigning orders to the appropriate personnel with just a few clicks on a mobile device
Employees benefit from not having multiple sheets of paper to carry around, fill out, protect from elements and return to supervisors
Completed orders go directly from mobile devices to SAP
Simplicity :
Putting in notification can be completed in minutes in the field
We can record video, take pictures, leave notes, document temperatures and close orders with ease
Use a mobile app that could help :
Simplify maintenance processes
Improve data collection
Improve efficiency of personnel
Digitalize our safety, environmental and production inspections