Carmeuse and its partners of the Columbus project, John Cockerill and Engie had the honor to receive the Walloon Minister of Economy Willy Borsus and his team at the Engie site of Amercoeur. The importance of Columbus for the decarbonization of the Walloon industry was highlighted at this occasion. 
ENGIE will supply the green electricity feeding the 75 MW electrolyser which will be built by John Cockerill and Carmeuse will develop a new type of lime kiln allowing the concentration and capture of CO2, which will, combined with green hydrogen, produce e-fuel. This e-fuel can be used by the industry without any adaptation of their systems. 
This project will allow to avoid 900.000 tons of CO2 emissions, without taking into account other benefits, such as district heating, valorization of oxygen and the development of the know how to make Wallonia a real pioneer on the decarbonization of the industry. 
With Columbus, Carmeuse and their partners facilitate tomorrow's industry.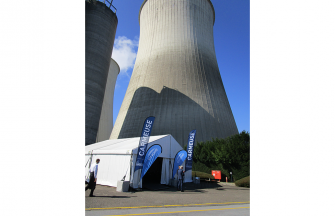 You might be interested in: