Besides being the Plant Manager in Engis, can you tell us who is Francis Bresmal?
He is someone who grew up in the middle of quarries, who has always worked in this sector and whose career activity ends shortly after 28 years worked for the Carmeuse company.
Before joining Carmeuse, were you already active in the quarry environment?
Yes, after my military service, in 1978, I chose to accompany dad in the exploitation of the Ben-Ahin quarry, which he had taken over years before.
As a child, I used to spend my holidays there and that is how, at a very young age, I learned the quarry trades. Afterwards, I learned to drive a truck, because I've always been passionate about driving and everything related to the automotive world. Subsequently, I was introduced to other professions, including the profession of driller-miner.
Then in 1983, you moved your activity to the Seilles plant?
Yes, initially, the Seilles ovens were supplied with stones from the Ben-Ahin quarry to produce lime.
Gradually, the Ben-Ahin deposit deteriorated, and the quarry had to stop its activity. We then moved our activity to Seilles and we started to operate the Boltry territory as a subcontractor.
In 1994, Carmeuse officially adopted us; I was assigned to the Engis headquarters, where I worked as Head of Extraction, a position I held until the end of 2020. In 2021, I became plant manager.
What could you say about the job of Extraction Manager for those who would like to know more about it?
The head of extraction is responsible for managing the extraction of the deposit in the short and medium term.
In the past, we did not have all the current software, so planning was done by viewing a plan on paper format; we had to use our imagination to see the vacuum after extraction.
This job is rewarding, but also very demanding. At the staff level, the part dedicated to team management and safety has become increasingly important over the years.
 
What are the highlights of your career that you would like to share today?
Rather than one or another highlight, I would rather remember the work done with the Engis staff, which is a team that has always been very close.
Thanks to the expertise of each of them and to their ingenuity, it was possible for us to react quickly to unforeseen events. And there were a few in Engis!
What advice would you give to a future Head of Extraction?
In addition to knowledge of the equipment, knowledge of the deposit and its particularities is important. Being surrounded by a team (geologists, miners) who master this allows you to move forward with a certain serenity.
Never rest on your achievements and also keep in mind that the way of proceeding in one quarry is nothing like the way of proceeding in another.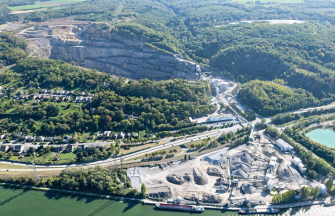 How are you feeling as you approach retirement?
I am quite serene, somewhat nostalgic, but happy to have had a job that has always fascinated me.
I have always wanted to bring a good mood to my team, and I leave with the feeling of a job well done.
Furthermore, I'm sorry to know that the Engis plant is at the end of its life, even if it's not a surprise. It's always a strange feeling to witness the end of life of a deposit. In general, you can always tell yourself that you will never face this!
I'm almost going to lock the door when I leave and put it under the doormat (laughs).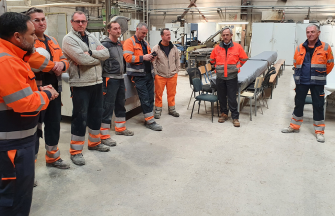 On a more personal level, how do you plan to take advantage of this "new" life as a young pensioner?
The first few days, I will do nothing… just breathe! (laughs)
I recently became the grandpa of a charming little Elsa, I intend to reserve a maximum of time for her, as well as for my wife of course.
I also enjoy cycling, walking, motor racing and also hope to travel again, after a two-year deprivation from Covid!

In conclusion, what could you say to our future recruits who would like to join Carmeuse?
It is a source of pride for a young professional to join a family business which has been able to diversify over the years and become the international group it represents today.