Whether ordering collect or prepaid, our Production Planning teams, Supply Planning Coordinators, and Transportation Analysts work in tandem to efficiently fulfill your order. We are backed by our wide network of plants, terminals, and docks, strong carrier partnerships, and solutions-oriented support teams. When partnering with Carmeuse, you can feel confident that we will work to help find the best transportation solutions for your needs.
Benefits:
Large network of plants and terminals providing convenient and reliable supply
Flexibility to source material from any plant, with your approval
Strong relationships with qualified truck, rail, river and lake carriers to coordinate safe deliveries
Managing critical carrier performance indicators to ensure we are meeting your requirements
Analyzing logistic data and lane options to find efficient and cost-effective solutions
Identifying opportunities to position Carmeuse products closer to your facilities
Emergency order processing and 24/7 support
Dock operations along the Great Lakes enabling efficient seaway or in-land access
Carmeuse Americas has 36 production facilities across the United States and Canada along with a broad network of supporting terminals and dock operations. This allows us to provide widespread product availability to help keep your operation well-supplied and running smoothly. Our goal is to get the right product, to the right location, when it is needed, and to let you focus on what moves your business forward.
In addition to our product network, we build and maintain close ties with local and national carriers across truck, rail, and barge lanes. In leveraging these partnerships, our teams can provide point-to-point support from our quarries to your site or work in tandem with your logistics personnel to schedule and process orders. For expert support with raw material selection or lime handling systems, learn about our Carmeuse End-2-End Services.
Learn More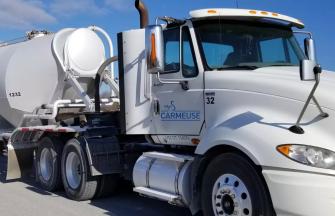 Carmeuse also operates several docks along the Great Lakes, with full services from our quarries to the lakes, docks, trucks, rail, and barges, and even out to the seaway. From providing aggregate and sand for construction projects, to bringing in heavy equipment or bulk materials to/from a lake vessel, we can support you. Our docks have moved aggregates, sand, salt, furnace coke, wind turbine tower sections and even a gas-fired power plant. Our experienced workforce can provide Port Activities that include stevedoring, shipboard welding, rigging, lashing, lagging, equipment upgrades/rework and cargo management.
Whether you are shipping nationally or internationally, our convenient locations and breadth of capabilities make us the right partner for you. For dock services or stevedoring along the Great Lakes, please contact us at 1-866-780-0974 or email salesinquiries [at] carmeuse.com (salesinquiries[at]carmeuse[dot]com).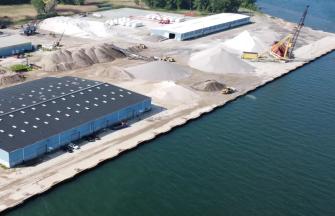 Getting the right product, to the right place, at the right time takes teamwork. Our Production Planning teams, Supply Planning Coordinators, Transportation Analysts, and Terminal Management Teams work together seamlessly to plan, process, and efficiently fill your orders.
Production Planners
Our Production Planners work with customers to understand their material needs and determine which Carmeuse operation can best serve you. This critical role helps establish how much product each of our operations should produce to provide reliable supply to our customers.
Supply Planning Coordinators
Our Supply Planning Coordinators provide direct 24/7 support to our customers for both collect and prepaid. From placing orders and scheduling trucks, to coordinating deliveries and helping with order processing, this expert team solves customer problems quickly and efficiently.
Transportation Analysts
Our Transportation Analysts partner with reliable carriers to support our customers' pre-paid shipments. Our teams help alleviate transportation issues, expedite shipments, find backhauls on lanes, and analyze data to get the best rates with our carriers:
• Dump Trucks
• Pneumatic Trucks
• Flatbed Trucks
• Rail
• Barging
• Lake Vessels
Our Transportation Analysts also help position Carmeuse products closer to our customers for added flexibility and convenience. We do this by utilizing a network of rail to truck terminals to reduce replenishment lead times and increase product availability.
2023 Fuel Surcharge (FSC)
 
Rail
Truck
Vessel
 
CSXT
NS
CRPS
CN
US
CAN
Great Lakes Diesel
Jan
$0.82
$0.69
$0.6400 / $0.5550
$0.7730
37%
50.75%
$4.565
Feb
$0.68
$0.56
$0.5300 / $0.5300
$0.6300
33%
51.45%
$4.565
Mar
$0.65
$0.52
$0.5300 / $0.4950
$0.5975
33%
45.15%
$4.565
Apr
$0.61
$0.48
$0.4650 / $0.4500
$0.5520
30%
39.55%
$3.378
May
$0.56
$0.43
$0.4250 / $0.4200
$0.5000
28%
37.45%
$2.628
Jun
$0.53
$0.40
$0.3950 / $0.3750
$0.4675
27%
33.60%
$2.993
Jul
$0.48
$0.36
$0.3600 / $0.3550
$0.4220
25%
31.50%
$2.864
Aug
$0.46
$0.33
$0.3500 / $0.3700
$0.3960
25%
32.55%
$3.310
Sep
$0.48
$0.35
$0.44000 / $0.49000
$0.4155
29%
37.45%
$2.904
Oct
$0.60
$0.47
$0.5100 / -
$0.5390
32%
42.70%
-
Nov
-
-
- / -
-
-
-
-
Dec
-
-
- / -
-
-
-
-
2022 Fuel Surcharge (FSC)
 
Rail
Truck
Vessel
 
CSXT
NS
CRPS
CN
US
CAN
Great Lakes Diesel
Jan
$0.44
$0.28
$0.305 / $0.290
$0.348
24%
29.05%
$3.018
Feb
$0.42
$0.29
$0.290 / $0.315
$0.324
23%
29.40%
$3.018
Mar
$0.44
$0.31
$0.345 / $0.375
$0.370
26%
33.60%
$3.273
Apr
$0.51
$0.39
$0.465 / $0.615
$0.4545
33%
39.55%
$4.111
May
$0.78
$0.65
$0.6100 / $0.6000
$0.7340
38%
45.50%
$4.771
Jun
$0.79
$0.66
$0.6950 / $0.7000
$0.7340
41%
51.80%
$4.448
Jul
$0.90
$0.77
$0.7050 / $0.7350
$0.8510
43%
55.65%
$4.435
Aug
$0.94
$0.82
$0.7150 / $0.6500
$0.9030
43%
52.15%
$4.060
Sep
$0.88
$0.75
$0.5900 / $0.5550
$0.8315
38%
43.40%
$4.102
Oct
$0.76
$0.75
$0.5950 / $0.5750
$0.7080
37%
44.80%
$4.157
Nov
$0.75
$0.63
$0.5800 / $0.6460
$0.7015
38%
47.25%
$4.815
Dec
$0.81
$0.68
$0.7000 / $0.7050
$0.7600
40%
58.10%
$4.565