"Early childhood education is the key to the betterment of society" - Maria Montessori
We believe that every child should have an equal opportunity for education. Unfortunately, we all know that, even though we live in a modern and well-developed society, children do not have the same possibilities in different countries. Therefore, our Carmeuse family is more than committed to provide either financial or volunteering support with aim to help underprivileged children all over the world.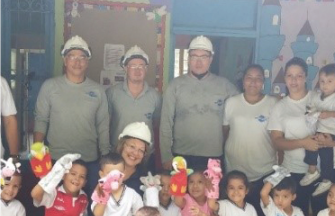 We want to help in providing educational, training and mentoring opportunities. Our belief is that these children will respond to a positive interaction within the communities and will bring additional value to the upcoming generation. The education and growth of children reflects on the future of our society and they can make a big impact in relation to that.
With this goal, we started our Santiaguitos kindergarten project through the Procecal lime plant. The Procecal lime plant is located in the region of Medellin, a region that lacks collective infrastructure: access to basic healthcare is difficult and there are no possibilities of schools for the youngest infants.
Since 2010, in order to improve the quality of life and the development of the region's children, Procecal has launched a program to welcome the youngest infants to the Santiaguitos kindergarten. This kindergarten has multiple goals: to follow a learning program that will allow easier access to primary school, to offer daily meals to the children, to teach the children basic hygiene rules and to provide basic healthcare as well as the necessary vaccinations.